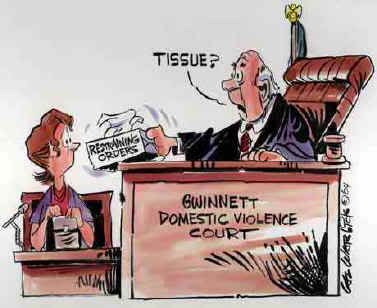 The Smallest Minority
brings us the story of a tragedy of a girl orphaned by a monster. No restraining order was issued (The judge is now "very upset" - way to "feel our pain" judge.) The sheriff sees things a bit more clearly.
(T)he sheriff explained that the injunction may not have prevented the attack. "I don't really believe it would have in a case like this," said Johnson.

"An injunction is fine for someone who is willing to accept the rules. This individual here was set on taking action," he said. "The only way you could have prevented it would be to put him in jail and keep him in jail. There was nothing there to do that. When someone is bound and determined they are going to do a criminal act, it is hard to stop it."
Love the cartoon. [click it for a better view]