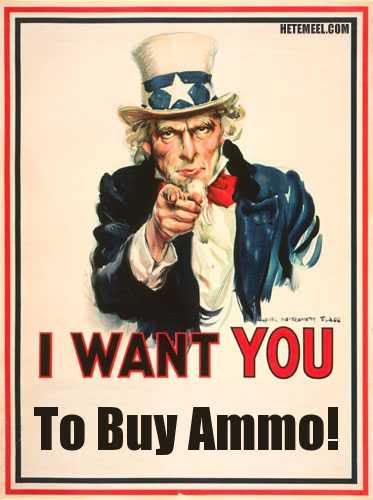 One of the best ways to ensure our right to keep and bear arms, is have arms and ammunition in our hands.
Buy Ammo Day
(or week) addresses the ammunition side of this equation.
In the very first year of National Ammo Day, we tried to track exactly how many rounds of ammo came into the public's possession on that day.

For various reasons, the closest estimate we could come up with was about ten million rounds.

In one day.

Now, much later, we expect that many millions more will be bought by you, our gun-owning friends, on or around November 19th, 2005.
100 rounds is not a lot. My local big-box discount store (and probably yours too) has taken to selling pistol cartridges in 100 round boxes, in addition to the traditional 50 round boxes. Mostly target ammo, but even so. Much cheaper than buying 2 boxes of 50.
If the budget permitted me, I would buy a Yugoslavian SKS or 2 (they are inexpensive) and a thousand rounds of ammo (also not very expensive) for TEOTWAWKI. But I will console myself with some target ammo and a trip the gun range.