Two killings test right of self-defense - baltimoresun.com
A long-winded and ambivalent review of citizens' right to self-defense. But buried throughout the piece is the story of Karen Foxx. She had obtained a restraining order against her estranged husband, Herman Bullock, she had accused him of assault - he was acquitted - and she had changed her phone number.
She also bought a gun for self-defense. She shot and killed him when he broke into her home and threatened her with an ax handle.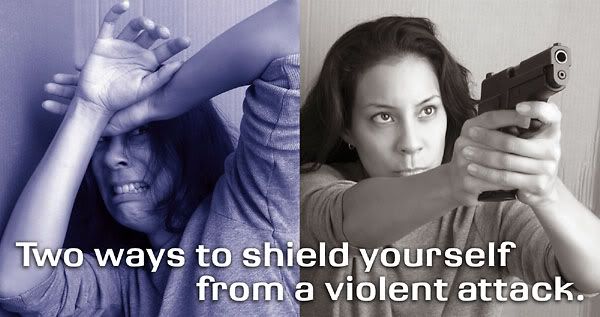 [Image © Oleg Volk and
A-Human-Right
]
People all over the country are discussing enhancements to Castle Doctrine. Here is a clear statement of why I believe the right of self-defense must be supported to the fullest extent possible.
Under Maryland law, a person may use deadly force to defend himself if he believes his life is in imminent danger, if that belief is reasonable and if he uses no more force than is "reasonably necessary."
I have no problem with the reasonable requirement if I am away from home, but if someone breaks into my home, I believe the law should assume I am reasonably justified in defending myself. How am I to determine the intent of the intruder, or know what weapons he has, or even know how many people I face? (Is there another down the hall or outside?) In terms of "reasonably necessary" force, how much time do I have to locate a weapon with the correct force? What selection of weapons would be required to meet all the various force levels? When faced with a threat, I am going to turn to the most effective means of defense at my disposal. In most instances this will be a firearm. Then I will meet the threat.
We are also told that an issue will be made of the number of times Foxx shot Bullock. The implication being that perhaps she shot him too many times for defense.
Consider this post
about an article in the
FBI Law Enforcement Bulletin
regarding neutralizing threats. One man was shot 5 times with a .45 caliber weapon and was still a threat. Another was shot 5 times with .40 S&W was still advancing on law enforcement. A third was shot 13 times with 9mm ammunition and ran several blocks. One shot kills are common only in the movies. In real life you shoot a threat until that threat is neutralized, or until your gun is empty.
This case is clearly an instance of self-defense. It should not be tried.
This case is also a clear indication of what "The System" can and cannot do to protect you. Restraining orders and court cases and the police are not 100% effective in protecting victims of domestic violence. If you refuse to be a victim, you need to take some actions to enable your defense. (No,
I am not blaming victims
.) Too few stories of domestic violence end with the victim alive, and the abuser dead. Taking some action will not ensure success (there are no guarantees in life), but it will change the odds of survival. [hat tip
KABA
]