Annie, get your Glock - The Boston Globe
Figures it would be in the Boston Globe. A typical remark follows.
Thanks largely to the popular Ladies Night promotion, women now represent about a quarter of the Firing Line's business, says owner Jim McLoud -- a veritable coup for the testosterone-driven gun range, where the only woman on a staff of six full-time and five part-time employees is a back-office accountant.
I wonder if the Boston Globe has printed a similar comment about "Ladies Nights" held at night clubs? Or is it just that they hate guns?
They get a few things just plain wrong as well - denigrating the lethal aspects of a .22 long rifle gun, calling protective earmuffs "earphones" and making assumptions about the NRA. The most incredible thing that they get wrong is a comparison of the Walther P22 and PPK.
Jeni Benos of Chelmsford, who arrives later that evening with her father and her Walther P22 , a model similar to the Walther PPK made famous in the James Bond films, is not one of the skeptics.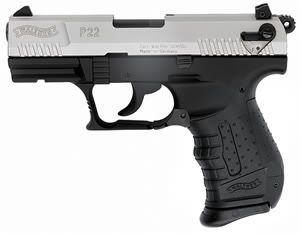 OK the P22 shoots .22 long rifle, while the PPK is chambered for .380 ACP. They don't even look similar. So the fact that they are both made by Walther makes them "similar?" Then this reporter must think a Mustang and an F150 pickup truck are similar, since both are manufactured by Ford. (Images of both guns are provided so you can make your own determination. Clicking on the images will provide a larger view of each firearm.)
Even with a Boston-Globe-required quote from the Brady Bunch, and a few digs at the NRA, the article doesn't really manage to be completely negative. It does quote people as having fun.