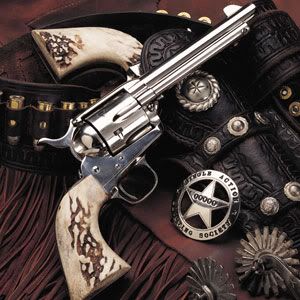 With weapons a'blazing, modern cowboys face the West's wild, wild past
The first story is from the San Francisco Chronicle of all places.
The match began with a scenario straight from a Louis L'Amour novel or a spaghetti Western -- or a mix of the two.
Without a quote from any anti-gun organization, this is a wonderful write up of Cowboy Action Shooting. I thought the following paragraph was indicative of the entire article.
Weekend events resemble a Renaissance Faire with people dressed in authentic Western wear, from the spurs, vests and cowboy hats for the guys to hoop skirts and bustiers for the ladies. The weekend competitions also draw a host of craftspeople and other concessionaires that sell period clothing, leather gun belts, holsters and the accessories of the day.
You know how the left loves Renaissance Faires.
The other story comes from
the People's Republic of
Illinois.
The Southern Illinoisan - Cowboys taking their shots: Upcoming Randolph County Ruckus emulates the golden era of the cowboy
No surprise that the story is not of Chicago.
SPARTA - If the Randolph County Ruckus had a soundtrack, you'd expect to hear Johnny Cash singing "Don't Take Your Guns to Town" or Marty Robbins' classic "El Paso."

The Ruckus is the Prairie State Cowboy Action Shooters Association's Illinois State Championship. It will be held at the World Shooting and Recreational Complex in Sparta July 26-30.
They talk about fun and competition. What more are you looking for?
If you are interested in Cowboy Action Shooting, the best place to start looking for information is
the Single Action Shooting Society
.