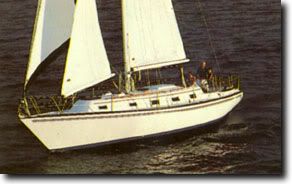 As some of my 2 or 3 regular readers know,
Zendo
is my boat. She is a 37 foot, 1979 Cherubini-designed Hunter Cutter. (The photo is actually a marketing photo from when the boat was new.)
Yesterday - after running aground on a VERY low tide, and pushing the transmission over the edge - I was towed into the repair yard, for some long overdue maintenance. Including repainting the bottom of the boat with paint formulated to repel (somewhat anyway) marine growth. The propeller shaft will be replaced and the packing gland (where the drive shaft exits through a hole in the hull) will be repacked. I am sure there will be some incidentals.
So I am "homeless" for a week or so. It is actually nice to stay in a hotel for a change, and enjoy the comforts of living with a bathroom bigger than a broom closet, a real bed, and the best part, an actual bathtub. The weird bit is having access to cable TV. I got rid of my TV 6 years ago, and I refuse to have it on the boat. (Cable or satellite is available in marinas everywhere.) The news channels are fascinating, but the regular programming is strange. (How many different versions of "Law and Order" or "CSI" are there? Oh well.)
Blogging may be limited. I am not - of course - doing all of the work on the boat myself, but I will be over there from time to time.