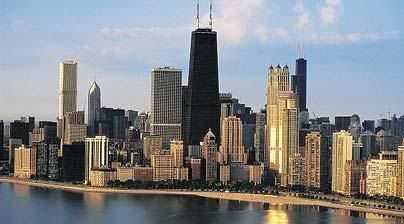 Chicago city guide - Telegraph
A Brit's guide to traveling in Chicago - good for all.
The skyscraper is Chicago's gift to the world. See some of the finest examples from the Observatory on the 94th floor of "Big John", the John Hancock Centre (875 North Michigan Avenue, 312 751 3681, www.hancock-observatory.com; £6). You can't miss the 110-storey Sears Tower, the tallest building in the world until 1998. Below, the grid system of the city stretches north-south, with Lake Michigan to the east and suburbs marching out to the west.

For a different perspective, take the Chicago Architecture Foundation's narrated 90-minute river cruise (312 902 1500, www.architecture.org; £14). Frank Lloyd Wright, one of the giants of 20th-century architecture, made his name in Chicago. Learn more at his home in Oak Park, 25 minutes from downtown on the L's Green Line (708 848 1976, www.wrightplus.org; £6).
The Art Institute, the Museums, and even one of my favorite Blues spots, Buddy Guy's get mentioned. And the river cruise is worth it on a nice day, since a lot of the buildings actually face the river.
But as for where to eat... they missed a few connections. Mama Desta's Red Sea Restaurant - Ethiopian. Greek Islands - authentic Greek (can't believe Diana's Oppa closed!) Giordano's deep dish pizza is better than Pizzeria Uno in my humble opinion. (Spinach soufflé is really a good Pizza - sometimes listed as Popeye's special.) Cajun in Chicago? Sure - Heaven on Seven. Thai - Star of Siam.
And ribs, you really do need to have ribs if you go to Chicago. (Robinson's Ribs in Oak Park is nice diversion if you go to the Frank Lloyd Wright museum. It isn't fancy. And it is a bit of a walk.) I mean they made a
M*A*S*H
episode about
ribs from Chicago
. Carson's is the place downtown - well, River North - for ribs. (Leon's will do if you have no choice.)
OK, now I'm hungry!
No mention at all of theater. There is quite a bit in Chicago. From Broadway-style productions to experimental stuff. And how could they not mention
Second City
? Mature! Current review is "Between Barack and a ..." "A free improvisation set follows the last performance every night but Friday." That is usually worth the price of admission aside from the regular review!