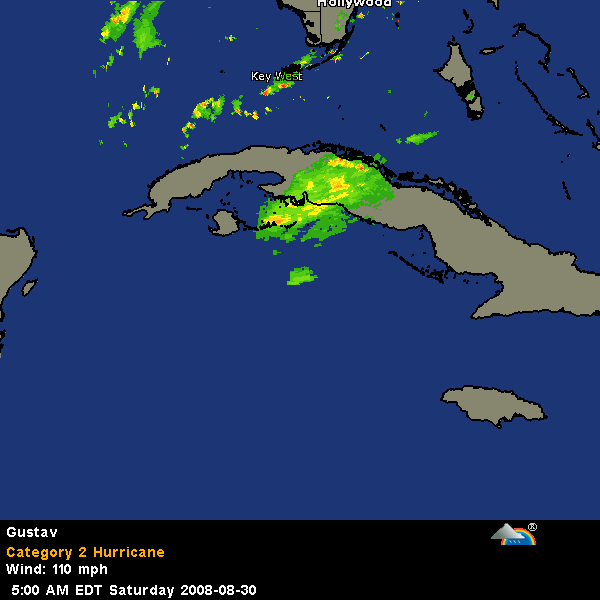 This is an unbelievable view of the eye-wall of Gustav as it comes into range of the Key West radar. (From
weather underground
) Category 4 as it hits Cuba and heads into the warm water of the Gulf. (Click the image for a bigger view.)
Just when you thought it was safe to go back to the French Quarter.
But seriously, the folks in The Caymans (
71 dead
) and Cuba have been pasted, and it looks like the Gulf Coast is going to get hammered. Again.
The 11:00 PM EDT advisory isn't encouraging
....
COASTAL STORM SURGE FLOODING OF 18 TO 23 FEET ABOVE NORMAL TIDE LEVELS...ALONG WITH LARGE AND DANGEROUS BATTERING WAVES...ALONG THE COAST OF WESTERN CUBA SHOULD SUBSIDE TONIGHT
A 23 foot storm surge is enough to put a two story house completely underwater, and that assumes that the house in question just isn't just washed away.
This storm weakened slightly over Cuba, maximum winds fell from 150 MPH to 140 MPH. Still a category 4 storm, now heading straight for Louisiana. If there is any good news, the memory of Katrina hitting New Orleans (3 years ago yesterday) seems to have convinced people to get out of
Dodge
NOLA.
Late August hurricanes can be problematic. The list of late August Hurricanes includes
Andrew
, which hit Elliot Key (just off Miami/Homestead) on the morning of August 24th, 1992, and
the Labor Day Hurricane of 1935
, which hit the Bahamas on August 29th, the Upper Florida Keys on September 2nd and hit Cedar Key, Florida on September 4th. It was the first of 3 cat 5 storms to hit the US in the 20th Century.
Huricane Camille
, the 2nd of 3 cat 5 storms to make landfall in the US hit on August 17, 1969 - so that may or may not count as late August. (Shell Oil recorded wave heights of 70 feet or more. Yikes.) Note that Katrina made landfall - in Mississippi, its 3rd in he US - as a category 3 storm, not a category 5 storm.
If you are religious, prayers for all these folks would be good.