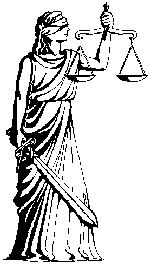 Federal prosecutor admits mistake, begs for leniency
When you reward people for convictions, that's what you get, even if they trample on the Constitution to get there.
A federal prosecutor today acknowledged that she withheld evidence that could have helped clear a defendant in a gun case but said it was an inadvertent mistake and implored the chief judge of the US District Court in Massachusetts not to impose sanctions that could derail her career.
This isn't the case of one
cop
prosecutor having a bad day; it is a systemic problem.
But Judge Mark L. Wolf said he was considering several sanctions because he was so appalled by Sullivan's lapse and by what he characterized as a pattern of prosecutors in the US attorney's office withholding evidence.
Apparently the Boston office has a history of sweeping things under the rug, if those things might help the defense.
Justice is blind, implying that the courts don't always get things right. But justice should not be holding her thumb down on one of the scales to favor conviction.